As sung in the magnificent (and only) Black Sabbath ballad, we're going through changes. Alex has given his drumsticks to his successor Rob Zwiers at the last gig in Hoogeveen. We will introduce Rob soon, but for now we want to thank Alex for his work at Sick Sabbath. Alex was there from the beginning, but the gigs and travels are hard to combine with his private life, so he decided to step down. We respect his discission and Alex will always be welcome to drum a song, drink a beer or just tag along a Sick Sabbath show.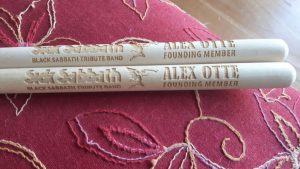 As a gift we have given him two new drumsticks honouring him for the fact that he was there when it all started and have joined us a couple of years in some great shows.
Alex Otte Founding Member of Sick Sabbath!!!